Would you like to make your life richer
by helping someone else?
Could you come in and help in a class or help an adult with disabilities (most of which have an academic level below 4th grade) with math? Reading? Basic computer skills? Money counting skills? Sewing? Crafts? Scrapbooking? All help would be under the direction of an instructor.

Would you come in and share about your job or an interesting job Experience? Play an instrument or introduce different instruments? Lead a sing along? Read current events or accounts of historical events? Share some history - how things used to be? Share a slideshow of a memorable vacation? Help with a party?

 
 

Would you like to volunteer from home? Bake cupcakes for parties? Type a newsletter? Type clients' stories? Clean or fix costumes for clients' work videos?

 
 

Do you have any ideas for helping or enriching the lives of these adults?

 
 

Is there something you like to do that you would like to share with our clients?

 
 

Have you recorded music or know a band that has a song (or songs) they will donate to our clients' Music CD fundraisers?

 
 
What can volunteering do for you? Check out what others have said.....................
Testimonies of Volunteers.........

Whom we appreciate and love dearly!

Thank You Volunteers for your assistance, kindness and faithfulness in enriching the lives of these adults!

"The clients are so grateful for anything that you do for them! I feel very grateful for just being there. They enrich my life"

Sally Jo helps with classes, bingo, parties, & client assistance

"The first time we volunteered at Cornerstone we thought that we could help put smiles on some faces by leading a group sing-along for the clients. We were surprised to find ourselves smiling just as much. What a wonderful, joyful group of people who love sharing the gift of music as much as we do. We sing, we laugh, the time flies by."

Becky & the twins lead sing-alongs, help with scrapbooks, and types projects from home


"When you are there, you feel like you are a part of a big family

Melissa helps in classes, parties, decorating, & individual client assistance

I have never smiled much. When I go to Cornerstone I find myself smiling constantly. They (the clients) are the ones that bring it on! You feel like you're doing something worth while. They are so grateful for every little thing.

Ann does bingo, provides parties, prizes, awards, & Christmas luncheon & gifts

"I know once in awhile the staff can be overwhelmed. Especially with holiday projects and gatherings for the clients. It makes me feel good to be able to give the staff a helping hand every now and again. It makes it a little easier for them to keep doing the wonderful work they do."

Paula helps with parties, special projects, errands, and any special needs

 
 

Volunteering at Cornerstone really opened my eyes to a whole new experience. Without the clients there I would have never realized the kind of person I really am. I found myself smiling when I was there because the clients make you realize to love every moment of life. They love life and when you walk through those doors they greet you with open arms like you are a part of their family. There's definitely no better feeling than that. They made me realize there is so much more to life and to be grateful for each day you have.

Liane trains clients to do new jobs at the work shop

Jacki helps a client with banking and helps with our senior clients Ladies Hat Club

Laurie comes in and teaches sign language classes and also helps with our senior clients Ladies Hat Club
What our special needs adults say about volunteers:
"They help us when we need help"
"I like how they greet us and treat us nice"
"They make me feel warm inside"
"They make our day!" "I want them to come back"
"They make us feel happy and good about ourselves!"
"It makes me happy that they want to spend time with us" "I want to just say 'God Bless You!' to them"
Life is short, let's make ours count!
(for workshop classes)

Bingo Prizes (new or used) CDs, Videos, candles, word search books, calendars, puzzles, CDs, art supplies, jewelry, etc.)

Work related Costumes (for clients to wear in work videos)

Math or reading electronic games

Portable educational learning computers

Anything Sports (NASCAR, Wrestling,Baseball,Football, etc)

Anything musical or movie related

Anything Elvis

Interesting books with colorful pictures for our mini library

Old magazines and greeting cards for craft projects

(Make your life and your used junk count!)
CD Fundraiser...........
12 songs donated by 5 professional bands/muscians, including 5 Inspirational messages from Cornerstone Clients!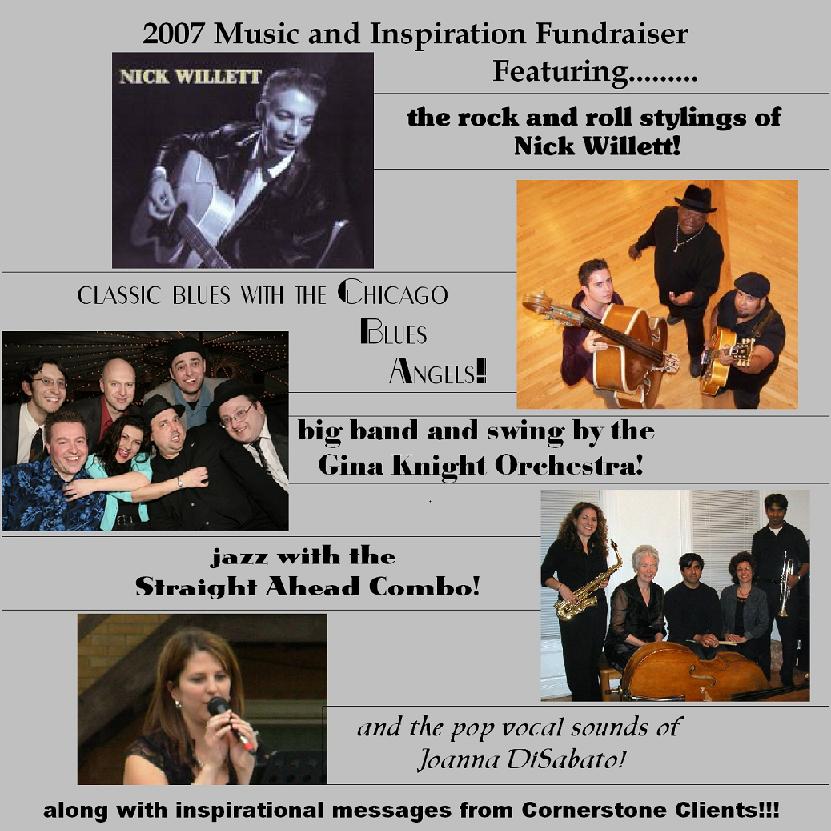 Some comments about our CD:
"It is excellently done!"
"Very professional." "It's sophisticated"
"I love all the different styles of music!"
"The inspirational messages are very moving, and have made a difference in me!"
$10.00 shipped. (Great for gifts!)
__________________________________________________________________________________
__________________________________________________________________________________
Of all the states in America, the state of Illinois comes in last when it comes to providing funds for these special needs consumers. (Which is outrageous!)
We must therefore continually expend much time and effort on raising money for programs for our clients.
Thank you for any kind consideration!
You will never regret what you do to bless those less fortunate.
________________________________________________________________
________________________________________________________________
_________________________________________________________________________________________________________
_________________________________________________________________________________________________________
Special Thanks to these talented muscians for all they have done & are doing for Cornerstone Clients
Gina Knight
(coming in & doing a Career Seminar for our clients, showing them how to play drums,
donating her recorded songs for our fundraiser, and passing our needs along)
Brad Ber
(coming in & recording clients' inspirational messages, editing and producing our CD fundraiser, donating time and expertise to Cornerstone needs on ongoing basis)
Nick Willet
(coming in and doing a Career Seminar, as well as entertaining clients, singing & recording our songs for each of our work videos on an ongoing basis, and donating his recorded works to our CD fundraisers)
Straight Ahead Jazz Combo
(for donating their recorded music to our Musical CD fundraiser)
Alison, Jackie, and Becky Huntley
(for their wonderful talents in music, guitar and voice, for sharing in a Career Seminar, coming in periodically & leading a sing-along, for working from home, typing certificates for clients & for helping with clients' scrapbooks on an ongoing basis )
Frank Londowski
(Fabulous guitarist, for coming in and doing a Career Seminar, entertaining the clients, and donating a ukulele to our workshop)
Grand Haven Theater Group
(Invites the Cornerstone clients every year to come free of charge to watch the dress rehearsal of their wonderful plays and musicals)
_________________________________________________________________________
_________________________________________________________________________
My work contact Information:
Terry Ber
Vocational Manager
Cornerstone Services, INC
2401 West Jefferson
Joliet IL 60435
815-773-7120
Cornerstone's Mission
Cornerstone Services, Inc. provides progressive, comprehensive services for people with disabilities, promoting choice, dignity and the opportunity to live and work in the community.
Monetary donations can be given on the secure server on the official Cornerstone Services website.